A Better Solution for Aluminum Welding
Pulse MIG Offers High Quality, Consistent Welding with Stable Heat Control and Fairly Low Splatter Rate Compared to Conventional MIG Welders. Therefore, it's one of the best solution to weld Active Metal such as Aluminum.
Non-touch Ignition HF TIG Welding
High Frequency Start TIG Welding allows for Maximum Weld Seam Quality in TIG Welding, And Non-Touch Ignition means you can position your torch accurately in all Angle
Gas Metal ARC Welding
MIG Welding with different gasses produces different weld penetration and arc characteristics. With CTMG-418PS, you can choose mixed gas or CO2 according to different welding application.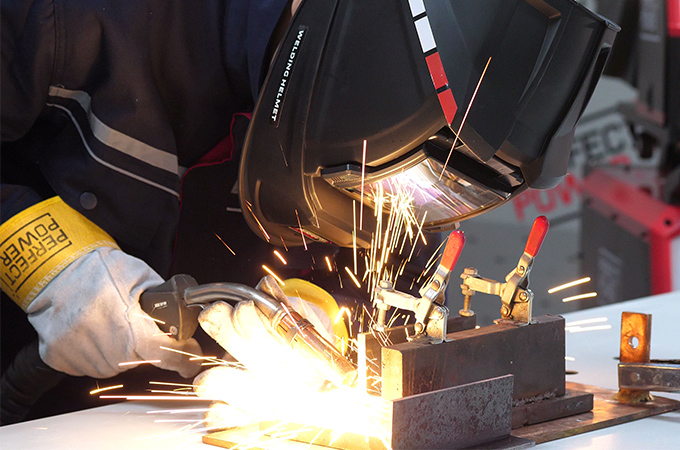 User Friendly Synergic Mode
By simply adjusting the current button, welding parameters will be set automatically to match the current. It is that easy!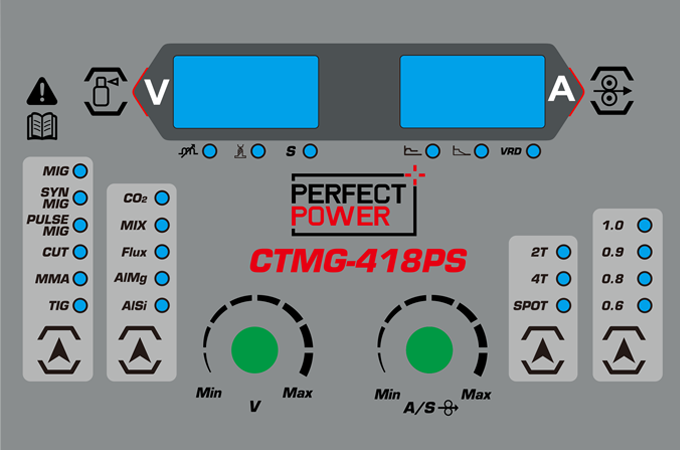 Flux Core ARC Welding
     Flux core welding is a great option for welding outdoor or windy                                                                                                                    environments.
Shielded Metal ARC Welding
Stick welding is an easy to operate technique ideal for beginners. With its adjustable hot start and arc force function, CTMG-418PS welder makes it easy to get started with your first projects.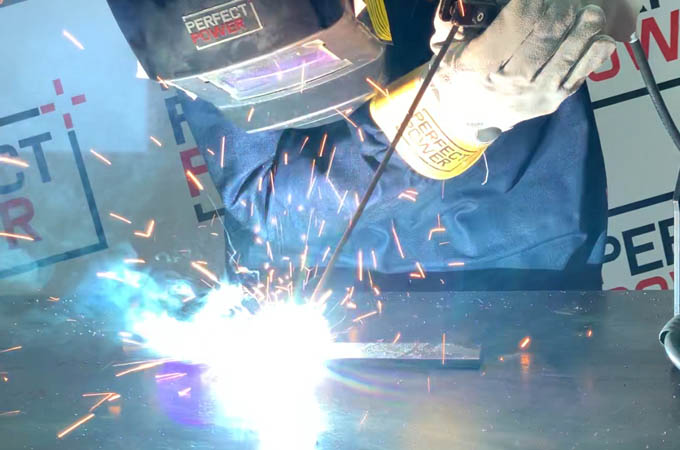 If you're looking for a top of the line plasma cutter that can handle cuts on almost any type of conductive metal, then look no further than CTMG-418PS.
Clean Cut up to 3/5″(15.2mm),
Severance cut up to 3/4″(20mm).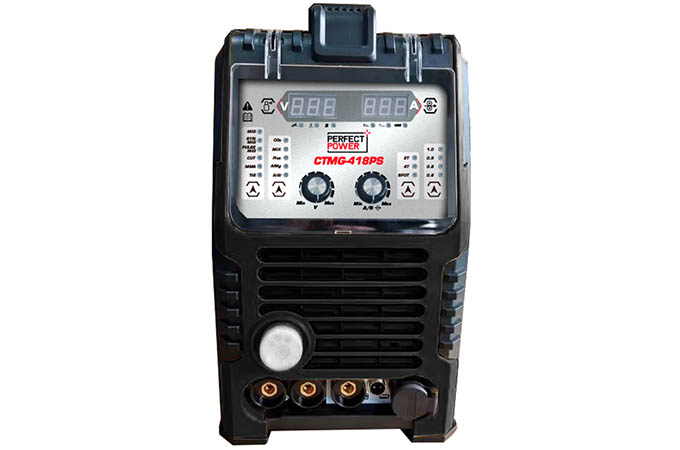 You can also preset the Spot welding time when pressing and holding the trigger. Spot timer is beneficial when you need to weld a constant length of weld bead on the job.
Portable Steel Unibody Construction
Weighs Merely 26lbs, you can easily carry it around to tackle projects. The Strengthened steel unibody makes the CTMG-418PS Strong enough for any indoor or outdoor jobs, which also guarantees the long service life of this machine. And it offers better heat resistance and heat dissipation compare to plastic constructure.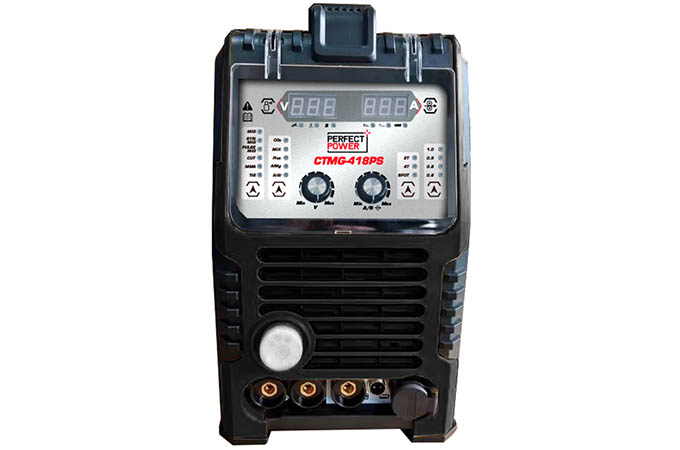 Add Your Heading Text Here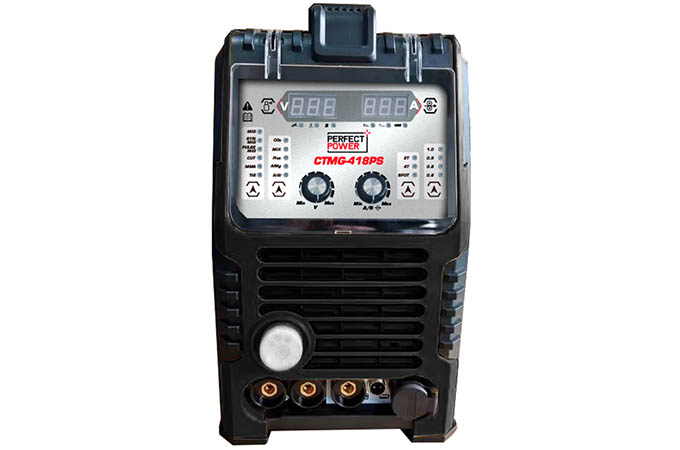 Mode:
GMAW,SMAW,GTAW,Plasma Cutting
Rated Power Input: 110V±10%
Maximum Input Current(A): 45A
Maximum Input Effective Current(A): 34.8A
Rated Duty Cycle:
60% Rated Duty Cycle at
155A / 22V(GMAW)
140A / 25.6V(SMAW)
155A / 16.4V(GTAW)
38A / 95V(Plasma Cutting)
100% Rated Duty Cycle at
123A / 20.1V(GMAW)
123A / 24.9V(SMAW)
123A / 14.9V(GTAW)
32A / 93V(Plasma Cutting)
Operating Temperature Range
-10℃~ + 40℃(14℉ ~ 104℉)
Storage Temperature Range
-25℃~+ 55℃ (-13℉ ~131℉)
Mode:
GMAW,SMAW,GTAW,Plasma Cutting
Rated Power Input: 220V±10%
Maximum Input Current(A): 29A
Maximum Input Effective Current(A): 22.4A
Rated Duty Cycle:
60% Rated Duty Cycle at
200A / 24V(GMAW)
180A / 28V(SMAW)
200A / 18V(GTAW)
50A / 100V(Plasma Cutting)
100% Rated Duty Cycle at
154A / 21.7V(GMAW)
154A / 26.1V(SMAW)
154A / 16.1V(GTAW)
40A / 96V(Plasma Cutting)
Operating Temperature Range
-10℃~ + 40℃(14℉ ~ 104℉)
Storage Temperature Range
-25℃~+ 55℃ (-13℉ ~131℉)