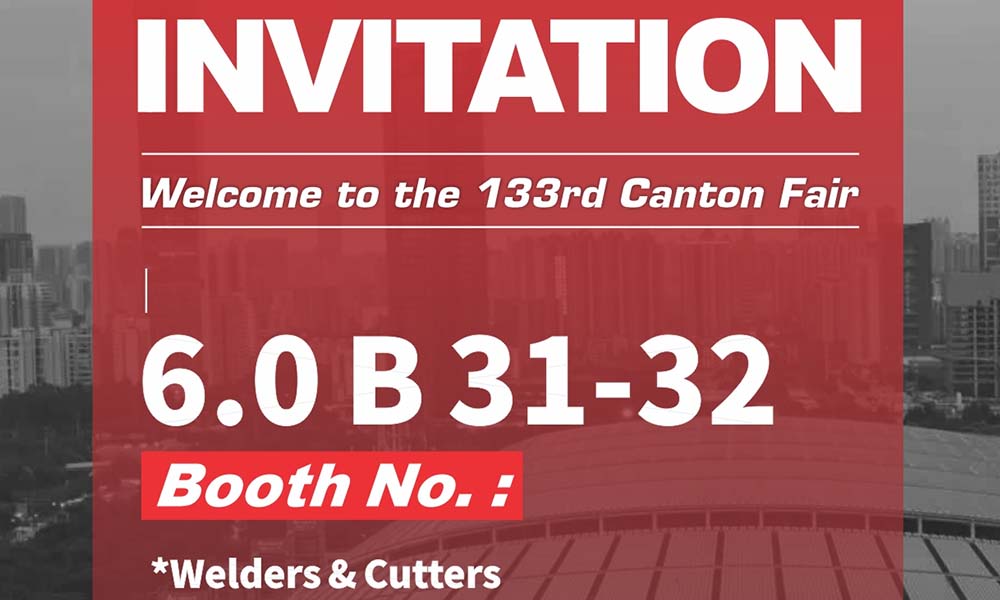 April 10, 2023
133rd Canton Fair Invitation From Perfect Power Welders
Canton Fair, established in 1957, has been successfully held for 132 sessions and is held every spring and autumn in Guangzhou, China. Canton Fair is a comprehensive international trading event with the longest history, the largest scale, the most complete exhibit variety, the largest buyer attendance, the most diverse buyer source country, the greatest business turnover, and the best reputation in China.
The 133rd Canton Fair International Pavilion cordially invites qualified international companies to participate in the exhibition and co-share the global commercial opportunities. Please check the detailed information as below:
Exhibition time
The 133rd Canton Fair is scheduled to be opened on April 15th , 2023.
The offline exhibition:
Phase 1:April 15th to 19th
Time for booth dismantling and setup:April 20th to 22th 2023,April 28th to 30th, 2023
The online exhibition: the online platform service time will be extended for a period of about 6 months (from March 16th, 2023 to September 15th , 2023 ).
Exhibition venue
The complex hall of China Import and Export Fair. (No.382, Yuejiang Zhong Road, Guangzhou, China)
No
Model
Power
Max Output Current
Accessories
1
ARC-160D
1PH/220V ±15%
160A
1.5M(L) 16mm² cable with ground clamp
1.5M(L) 16mm² cable with electrode holder
2
ARC-200D
1PH/220V ±15%
200A
1.5M(L) 25mm² cable with ground clamp
1.5M(L) 25mm² cable with electrode holder
3
ARC-160DP
1PH/220V ±15%
160A
1.2M(L) 16mm² cable with 200A ground clamp
1.8M(L) 16mm² cable with 300A electrode holder
mask、Brush&hammer
4
ARC-200DP
1PH/220V ±15%
200A
1.2M(L) 20mm² cable with 300A ground clamp
1.8M(L) 20mm² cable with 300A electrode holder
mask、Brush&hammer
5
ARC-160DPS
1PH/110V&220V ±15%
110V: 120A
220V: 160A
1.2M(L) 16mm² cable with 200A ground clamp
1.8M(L) 16mm² cable with 300A electrode holder
mask、Brush&hammer
6
ARC-200DPS
1PH/110V&220V ±15%
110V: 140A
220V: 200A
1.2M(L) 20mm² cable with 300A ground clamp
1.8M(L) 20mm² cable with 300A electrode holder
mask、Brush&hammer
7
MMA-160DC
1PH/220V ±15%
160A
2M(L) cable with ground clamp 300A
2M(L) cable with electrode holder 200A
Welding mask & steel brush with hammer
8
MMA-200DC
1PH/220V ±15%
200A
2M(L) cable with ground clamp 300A
2M(L) cable with electrode holder 200A
Welding mask & steel brush with hammer
9
MMA-160DCS
1PH/110V&220V ±15%
110V: 120A
220V: 160A
2M(L) cable with ground clamp 300A
2M(L) cable with electrode holder 200A
Welding mask & steel brush with hammer
10
MMA-200DCS
1PH/110V&220V ±15%
110V: 120A
220V: 200A
2M(L) cable with ground clamp 300A
2M(L) cable with electrode holder 200A
Welding mask & steel brush with hammer
11
MMA-250DS
1PH/220V&380V ±15%
230A
3M(L) 35mm² cable with ground clamp
3M(L) 35mm² cable with electrode holder
12
MMA-300DS
1PH/220V&380V ±15%
260A
3M(L) 35mm² cable with ground clamp
3M(L) 35mm² cable with electrode holder
13
MMA-300D
3PH/380V ±15%
300A
3M(L) 35mm² cable with ground clamp
3M(L) 35mm² cable with electrode holder
14
MMA-350D
3PH/380V ±15%
350A
3M(L) 35mm² cable with ground clamp
3M(L) 35mm² cable with electrode holder
15
FC-120
1PH/220V ±15%
MIG&MMA: 120A
2.2M(L) MIG torch (already connected to the machine)
2M(L) 14mm² cable with 200A ground clamp
2M(L) 14mm² cable with 200A electrode holder
Welding mask & steel brush with hammer
16
MIG-160I
1PH/220V ±15%
160A
3M(L) 16mm² cable with ground clamp
3M(L) 16mm² cable with electrode holder
3M(L) 15AK MIG Torch
3M(L) Gas Hose (Hose Hoop*2pcs)
17
MIG-180P
1PH/220V ±15%
MIG: 180A
MMA: 160A
3M(L) 15AK MIG torch
2M(L) cable with 200A ground clamp
2M(L) cable with 200A electrode holder
Welding mask & steel brush with hammer
U type wire feed drive roll (1PCS) 、 graphite hose (1PCS)
18
MIG-200DP
1PH/220V ±15%
MIG: 200A
MMA: 180A
3M(L) 15AK MIG torch
2M(L) cable with 200A ground clamp
2M(L) cable with 200A electrode holder
Welding mask & steel brush with hammer
U type wire feed drive roll (1PCS) 、 graphite hose (1PCS)
19
MIG-230 MINI
1PH/220V ±15%
220A
2.5M(L) 25mm² cable with 300A ground clamp
2.5M(L) 25mm² cable with 300A electrode holder
M8*12mm Gas Hose (Hose Hoop*2pcs)+9-16mm hose clamp (2PCS)
V type 0.8-1.0mm、U type 1.0-1.2mm wire feed drive roll
"3M(L) SN24 Euro connection MIG touch (graphite hose inside)
3M(L) Steel wire feed spring tube"
1.2 contact tip * 2、Wrench * 1
20
MIG-230
1PH/220V ±15%
220A
2.5M(L) 25mm² cable with 300A ground clamp
2.5M(L) 25mm² cable with 300A electrode holder
M8*12mm Gas Hose (Hose Hoop*2pcs)+9-16mm hose clamp (2PCS)
V type 0.8-1.0mm、U type 1.0-1.2mm wire feed drive roll
"3M(L) SN24 Euro connection MIG touch (graphite hose inside)
3M(L) Steel wire feed spring tube"
1.2 contact tip * 2、Wrench * 1
21
MIG-230DPLUS
1PH/220V ±15%
MIG TIG: 230A
MMA: 200A
3M(L) MB25AK MIG Torch(3.2M Teflon Pipe)
2M(L) 25mm² cable with 300A ground clamp
2M(L) 25mm² cable with 300A electrode holder
Slag Hammer&Steel Brush
22
MIG-250TD
1PH/220V ±15%
MIG: 250A
MMA: 230A
3M(L) 24KD MIG Torch
3M(L) 35mm² cable with ground clamp
3M(L) 35mm² cable with electrode holder
3M(L) Gas Hose (Hose Hoop*2pcs)
23
MIG-270TD
3PH/380V ±15%
MIG: 270A
MMA: 250A
3M(L) 24KD MIG Torch
3M(L) 35mm² cable with ground clamp
3M(L) 35mm² cable with electrode holder
3M(L) Gas Hose (Hose Hoop*2pcs)
24
MIG-270TDS
1PH/220V/380V ±15%
MIG: 270A
MMA: 250A
3M(L) 24KD MIG Torch
3M(L) 35mm² cable with ground clamp
3M(L) 35mm² cable with electrode holder
3M(L) Gas Hose (Hose Hoop*2pcs)
25
MIG-280 PLUS
3PH/380 ±15%
250A
2.5M(L) 25mm² cable with 300A ground clamp
2.5M(L) 25mm² cable with 300A electrode holder
3M(L) Separate Wire Feeder (35mm²)
9-16mm hose clamp (2PCS)
V type 0.8-1.0mm、U type 1.0-1.2mm wire feed drive roll
"3M(L) SN24 Euro connection MIG touch (graphite hose inside)
3M(L) Steel wire feed spring tube"
1.2 contact tip * 2、Wrench * 1
26
MIG-315L PRO
3PH/150V-550V
MMA: 270A
MIG: 310A
3M(L) 36KD 35mm² MIG Torch
3M(L) 35mm² cable with ground clamp(500A)
3M(L) 35mm² cable with electrode holder(400A)
3M(L) Gas Hose (Hose Hoop*2pcs)
27
MIG-350I
3PH/380V ±15%
350A
3M(L) 35mm² cable with 300A ground clamp
3M(L) 35mm² cable with 300A electrode holder
3M(L) 350A MIG Torch
5M(L) 35mm²External wire feeder
28
MIG-500I
3PH/380V ±15%
500A
3M(L) 50mm² cable with 500A ground clamp
3M(L) 50mm² cable with 500A electrode holder
3M(L) 500A MIG Torch
5M(L) 50mm²External wire feeder
29
TIG-200P AC/DC
1PH/220V ±15%
TIG: 200A
MMA: 180A
3M(L) 16mm² cable with 200A ground clamp
3M(L) 16mm² cable with 200A electrode holder
4M(L)  WP-26 TIG torch
3M(L) Gas Hose (Hose Hoop*2pcs)
30
CUT-40
1PH/220V
40A
5M(L) PT-31 Cutting Torch
1.2M(L) cable with ground clamp
Welding mask & steel brush with hammer
31
CUT-40D AIR
1PH/220V
40A
2M(L) 25mm² Cable With 300A Ground Clamp
5M(L) PT31 Cutting Torch
32
CUT-40DS AIR
1PH/120V/240V
40A
2M(L) 25mm² Cable With 300A Ground Clamp
5M(L) AG60 Cutting Torch
33
CUT-80A
3PH/380V ±15%
CUT: 80A
MMA: 250A
3M(L) 25mm² cable with ground clamp
3M(L) 25mm² cable with electrode holder
5M(L) 8mm² P80 Plasma cutting torch
3M(L) Gas Hose (Hose Hoop*2pcs)
Valve/regulator (1PC)
34
CUT-100A
3PH/380V ±15%
CUT: 100A
MMA: 300A
3M(L) 35mm² cable with ground clamp
3M(L) 35mm² cable with electrode holder
5M(L) 10mm² P80 Plasma cutting torch
3M(L) Gas Hose (Hose Hoop*2pcs)
Valve/regulator (1PC)
35
CUT-100I
3PH/380V ±15%
100A
3M(L) 35mm² cable with ground clamp
5M(L) 10mm² P80 Plasma cutting torch
3M(L) Gas Hose (Hose Hoop*2pcs)
Valve/regulator (1PC)
36
CUT-120I
3PH/380V ±15%
120A
3M(L) 35mm² cable with ground clamp
5M(L) 10mm² P80 Plasma cutting torch
3M(L) Gas Hose (Hose Hoop*2pcs)
Valve/regulator (1PC)
37
CTM-416
1PH/220V ±15%
MMA: 150A                                                         CUT: 40A                                                           TIG: 150A
1.5M(L) Power Cable
4M(L) PT31 Cutting Torch
4M(L) WP-17 TIG Torch
1.2M(L) 35mm² cable with ground clamp (200A)
1.8M(L) 35mm² cable with electrode holder (200A)
38
CTMG-4200
1PH/220V ±15%
CUT: 40A
MMA&TIG&MMA 200A
4M(L) PT31 Cutting torch
4M(L) PW-17 TIG torch
3M(L) 15AK MIG torch
3M(L) cable with ground clamp
3M(L) cable with electrode holder
3M(L) Gas Hose (Hose Hoop*2pcs)
Valve/regulator (1PC)
39
MG-200T AC/DC
1PH/230V ±15%
TIG: 200A
MIG: 200A
MMA: 200A
4M(L)  WP-17 TIG torch
3M(L) MIG torch
3M(L) 16mm² cable with 200A ground clamp
3M(L) 16mm² cable with 300A electrode holder
3M(L) Gas Hose (Hose Hoop*2pcs)
1x Welding Mask
1x Brush / Hammer
40
MG-200 AC/DC
1PH/230V ±15%
TIG: 200A
MIG: 200A
MMA: 200A
4M(L)  WP-17 TIG torch
3M(L) MIG torch
3M(L) 16mm² cable with 200A ground clamp
3M(L) 16mm² cable with 300A electrode holder
3M(L) Gas Hose (Hose Hoop*2pcs)
1x Welding Mask
1x Brush / Hammer
41
CTMG-418PS
1PH/110V&220V ±15%
MIG: 180A
TIG: 180A
MMA: 160A
CUT: 40A
4M(L) PT31 Cutting torch
3M(L) WP-17 TIG torch
3M(L) 15AK MIG torch
3M(L) 20mm² cable with 300A ground clamp(10-25)
3M(L) 20mm² cable with 300A electrode holder(10-25)
One American plug adaptor (big size)
2.5M(L) Gas Hose (Hose Hoop*2pcs)
1.0/1.2mm U-type wire feeding wheel
0.8/1.0mm W type flux wire feeding wheel
Slag Hammer&Steel Brush
Valve/regulator (1PC)