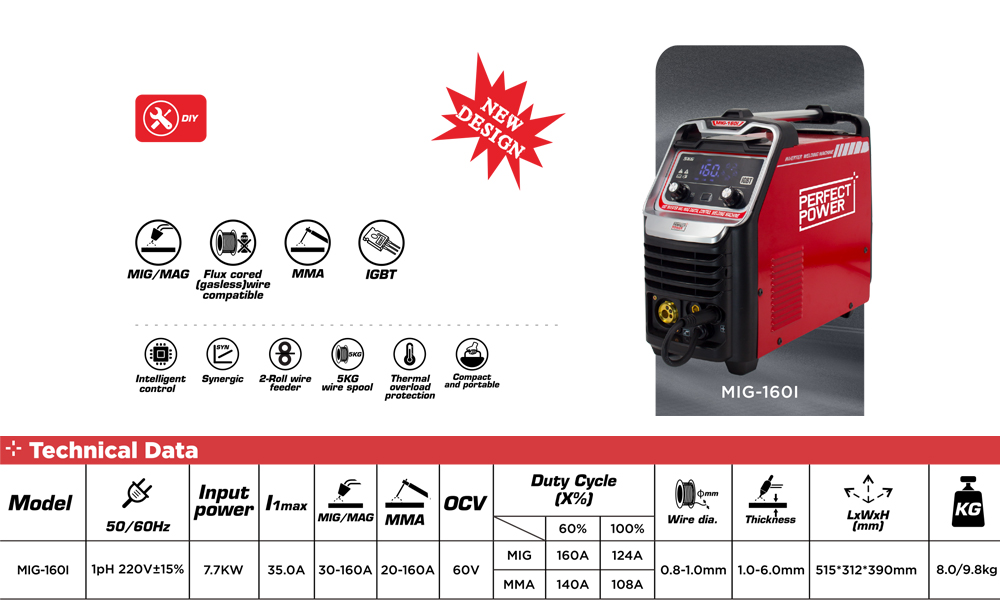 December 12, 2022
3 in 1 MMA/MIG/ FLUX CORED Combo Welder 160 Amp Welding Machine with IGBT Inverter
MIG MMA FLUX CORED Welder Machine. 3 In 1 Combo and Inner Wire Feeder and Highly Equipped IGBT. Multifunction 3-in-1 MIG/FLUX CORED/MMA professional combo welder, capable of welding up to alloy, mild steel, weld steel, stainless steel, copper, and cast iron. It can work well with solid wire and flux cord wire; it also has the MIG Torch and sticks function to weld steel and stainless steel perfectly. Gentle Reminder This welder has provided all the accessories that you need. Some accessories may come within the welder's side panel, simply open it to get those accessories.
Advanced IGBT Technology: Our MIG-160I adopts the most advanced IGBT inverter technology with excellent arc stability. Rated output current: 160 Amps. Output current range: 30 to 160 Amps. Suitable for welding carbon steel, iron, stainless steel, and other metals
Convenient Flux-Cored Wire: This mig flux core stick welder can use flux-cored welding wire and solid welding wire. Feeding speed adjustment range: 8.20 to 42.65 ft./ min. MIG welding wire: 0.8 to 1.0 mm. Included welding wire: 1 kg. It is the perfect entry-level welder choice
Easy Control Panel and 3 In 1: MIG welding machine has MIG MMA FLUX CORED mode. The welding machine has included function switching buttons and a current-voltage control knob, the intelligent digital display makes the operation easier for you
Safety and Overheat Protection: The arc welding machine has a built-in protection device, and the engine will automatically shut down when overheated and overloaded; it is protected against splashing water, with a protection level of IP21, which has a good water resistance
Compact and Portable: Lightweight 8KG, with a comfortable handle, easy to install and store. Ideal for outdoor repairs, rusty metal, farm and road equipment, and maintenance and repairs
Specification: Power input AC(V):1ph 220V ±15%,Max. Load Power Capacity(kVA):7.7 kVA MIG welding machine, Rated current input(A):35 A, Rated output current(A)/voltage(V):160/26.0(MIG), 160/26.4(MMA), Welding current range(A):30-160(MIG), 20-160(MMA, Open circuit voltage DC(V):60 V, Rated duty cycle:60%, Wire Feeding Speed(M/min):2~14, IP grade: IP21S, Wire Melting Type: short circuit transfer, Product Weight: 8kg.
Package Content: Includes MIG welding gun, 3m(L) 15AK MIG torch,3m(L) cable with 200A ground clamp,3m(L) cable with 200A electrode holder,3m(L) gas hose (hose hoop2pcs).