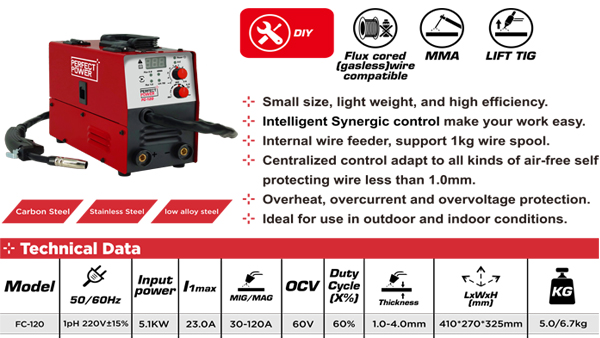 February 13, 2023
FC-120 – Helpful Features Welder for Welding Novices And Pros Alike
A flux welder, also known as a stick welder, is a type of welding machine that uses a stick electrode to produce an arc between the electrode and the metal being welded. This type of welder is commonly used for welding mild steel, cast iron, and stainless steel. It is ideal for welding in outdoor or windy conditions, as the flux coating on the electrode protects the molten metal from oxidation.
Flux welding machines are relatively simple and easy to use, and they are available in both AC and DC configurations. AC flux welders are often used for welding aluminum and DC flux welders are used for welding mild steel. They are also available in portable versions, making them ideal for on-site welding.
Flux welders are also known for their versatility and affordability, making them a popular choice for DIY welding projects and small welding shops. They are capable of producing high-quality welds with minimal spatter, making cleaning up fast and easy.
The flux welder is a reliable, durable, and efficient welding machine that is well-suited for a wide range of welding applications. If you're looking for a versatile and cost-effective welding solution, consider a flux welder for your next welding project.
Overall, if you're looking for a versatile and reliable welder that can handle various welding tasks, the FC-120 gasless flux cored welder is definitely worth considering.
The FC-120 gasless flux cored welder. This easy-to-use MIG machine uses 0.30, flux core wire, making it a perfect entry-level welder for DIY projects, maintenance, metal fabrication, and more.
One of the standout features of this welder is its powerful performance, with an output of up to 120 amps that allows you to weld mild steel up to 1/4 inch in thickness. Despite its power, the FC-120 is lightweight and portable, weighing just 7.25 kg, making it easy to carry to any job site.
Built to last, the FC-120 features an all-metal case that can withstand the day-to-day wear and tear of welding. It's also versatile, able to handle 2 and 10-pound rolls of wire. To ensure you have everything you need to get started, the welder comes complete with a 1.8m power cable, 2.2m MIG torch (already connected to the machine), 2m 14mm² cable with 200A ground clamp, 2m 14mm² cable with 200A electrode holder, a welding mask, steel brush with the hammer, and more.
With its infinite voltage and wire feed speed control, the FC-120 allows you to dial in the perfect weld, making it an ideal choice for hobbyists, contractors, and anyone in need of a high-quality, reliable welder. To provide peace of mind, this product is backed by a 12-month warranty.
In conclusion, the FC-120 Gasless Flux Cored Welder is an excellent choice for anyone looking for a powerful, portable, and easy-to-use welding machine. Whether you are an experienced welder or just starting out, this machine is sure to deliver the results you need.