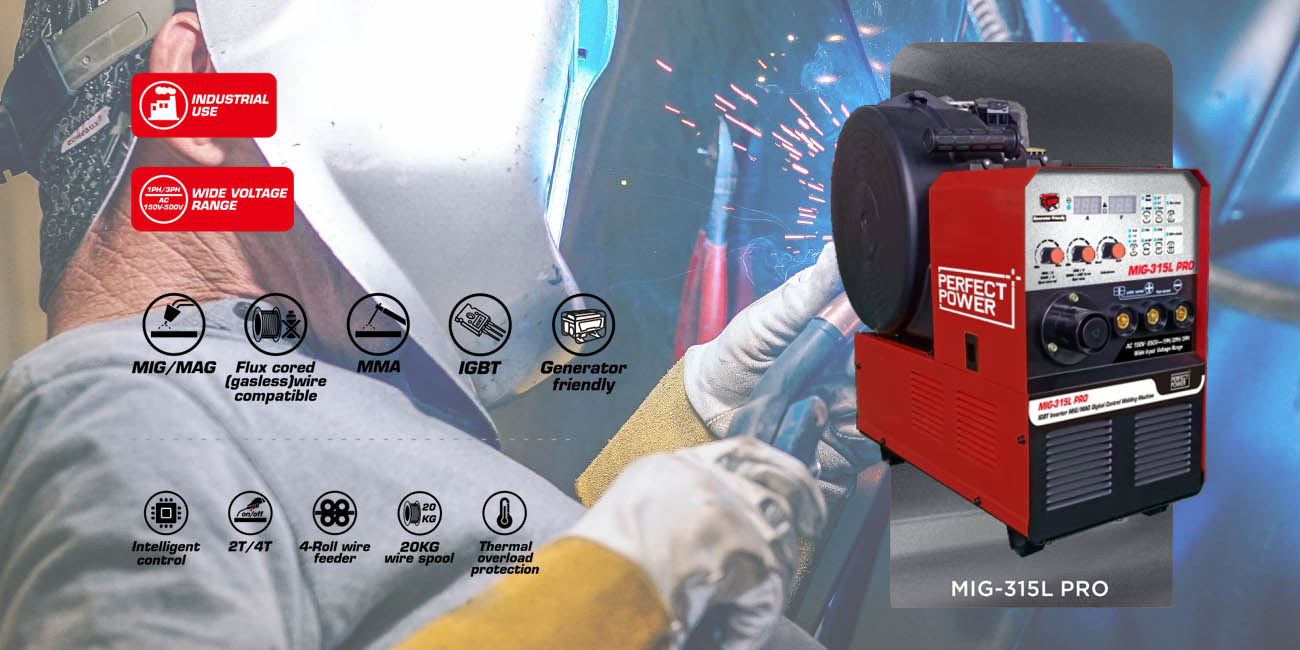 June 12, 2023
MIG-315L PRO Gas Gasless MIG Welding Machine – Advanced Features for Professionals
MIG welding is a popular welding technique used in various industries for its efficiency and versatility. The MIG-315L PRO Gas Gasless MIG Welding Machine is a cutting-edge welding tool that offers exceptional performance and flexibility.
The MIG-315L PRO presents numerous advantages as a 315 Amp MIG welder. One notable benefit is its compact and lightweight design, which facilitates easy maneuverability and transportation. As a result, this welding machine is well-suited for a variety of applications, whether in a workshop or on-site. Moreover, the welder incorporates an advanced cooling system that ensures efficient operation, minimizing downtime and extending its lifespan.
Key Features:
Stable Output Power: The full bridge IGBT converter guarantees a stable output power, ensuring consistent performance during welding operations.
Multifunctional Welder: This industrial-grade welder offers versatile capabilities, allowing for MIG/MAG, Gasless flux-cored wire welding, and MMA processes to be carried out.
Full Digital Control System: The welder is equipped with a fully digital control system, enabling independent adjustment of welding parameters. This feature ensures a stable arc output and delivers superior welding quality.
High Efficiency and Duty Cycle: The MIG-315L PRO operates with high efficiency and boasts an impressive duty cycle. Additionally, it produces minimal noise during arc welding due to its advanced rectifier.
Reduced Spatter and High Deposition Rate: With this welder, users can expect less spatter and a high deposition rate, resulting in neat welding beads and minimal deformation.
MMA Function: The MIG-315L PRO includes an MMA function designed to accommodate various electrodes, such as acid, alkaline, stainless steel, and cast iron. It delivers excellent performance across these applications.
Suitable for Various Environments: This welding machine is suitable for both outdoor and indoor use, making it highly versatile for different work conditions.
Enhanced Safety Features: The MIG-315L PRO incorporates safety protections against over-voltage, low-voltage, over-current, and overheating, ensuring the operator's well-being and equipment longevity.
How to Use the MIG-315L PRO Welding Machine
Step 1: Setting up the welding machine
Ensure the machine is placed on a stable surface and properly grounded.
Connect the welding torch, ground clamp, and gas hose securely.
Step 2: Selecting the welding process (gas or gasless)
Choose the appropriate welding process based on the material and project requirements.
If using gas, connect the appropriate gas cylinder and adjust the flow rate accordingly.
Step 3: Adjusting the welding parameters
Set the voltage, wire speed, and other welding parameters based on the material thickness and welding technique.
Refer to the machine's manual for recommended settings or consult an experienced welder.
Step 4: Preparing the workpiece and materials
Clean the workpiece to remove any dirt, rust, or contaminants that can affect the welding quality.
Ensure proper fit-up and alignment of the materials to be welded.
Step 5: Starting the welding process
Position the torch at the desired starting point and initiate the arc by striking it against the workpiece.
Maintain a steady travel speed and control the torch's position and angle for consistent and even welds.
Step 6: Post-welding considerations
Allow the weld to cool down naturally and inspect it for any defects or imperfections.
Clean the weld area, removing any spatter or slag.
Repeat the process for subsequent welds or adjust the parameters as necessary.
By following these steps and leveraging the advanced features of the MIG-315L PRO Gas Gasless MIG Welding Machine, you can achieve precise and high-quality welds in your projects. Experience the convenience and performance of this exceptional welding tool for your professional welding needs.