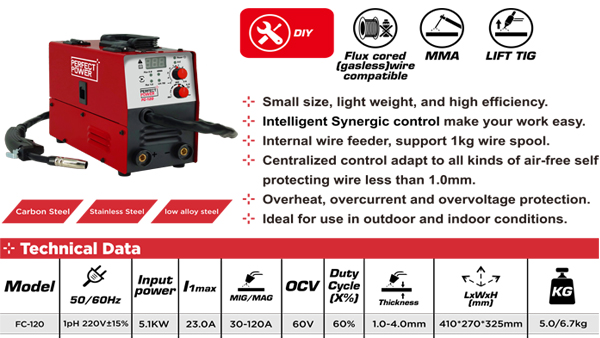 February 15, 2023
The 120A Flux Core Welding Machine: A Powerful and Versatile Tool
When it comes to welding, having the right equipment is crucial. That's why the 120A flux core welding machine is such a valuable tool for any welder. This machine offers power and versatility in a compact and portable package, making it perfect for both professional and DIY projects.
At its core, the 120A flux core welding machine uses a flux core wire instead of traditional welding wire. This allows for greater welding speed and precision, as well as the ability to weld in windy or outdoor environments without the need for gas shielding. With a maximum output of 120 amps, this machine is capable of welding a variety of metals, including steel and stainless steel.
One of the key advantages of the 120A flux core welding machine is its portability. Weighing in at only 7.25 kg, it can easily be taken to job sites or moved around the shop as needed. The machine also features a compact design, with a handle for easy carrying and storage.
But don't let the small size fool you – this machine packs a punch. With a wire feed speed range of 78-472 inches per minute, it can handle even the toughest welding jobs. And with an adjustable welding current, it offers precise control and accuracy, allowing for both thin and thick material welding.
In addition to its power and portability, the 120A flux core welding machine also offers a number of safety features. It includes a built-in overheat protection system to prevent damage to the machine and ensure safety during use. The machine also features a ground cable and clamp, which helps to prevent electric shocks during welding.
Overall, the 120A flux core welding machine is a great choice for anyone looking for a powerful and versatile welding tool. Its combination of power, precision, and portability make it a great choice for a wide range of projects, whether you're a professional welder or a DIY enthusiast. So why not add this MIG welding machine to your toolkit today?