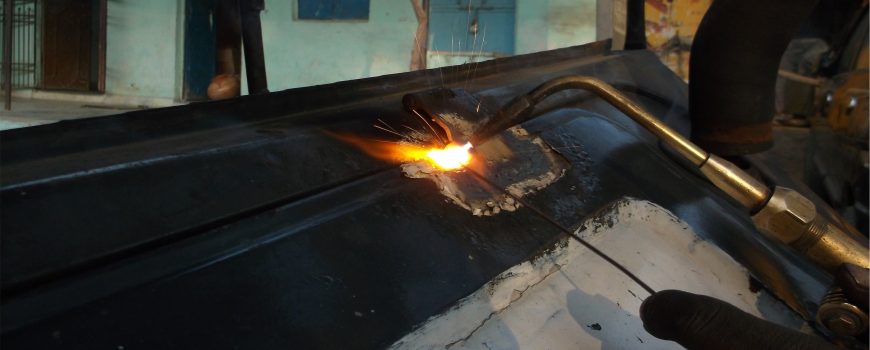 August 18, 2022
Why Is Mig Welder Considered To Be A Better Choice For Body Panels?
If you ask any welder out there, their usual choice while welding body panels and sheet metals would be MIG welding. There is a very simple reasoning behind this, MIG welding does not run as hot as flux-core. During the latter, the wires use more heat as the arc also has to burn the flux inside the welding wire.
Basically, the MIG welding machine is much better at managing heat during welding, which leads to fewer holes and warping.
You have to use the smallest wire possible for the job, smaller wires use less heat to melt. For welding on materials that are thinner than 20 gauge, 0.023" wire is recommended although some people also use 0.030" sized wire. For the latter, your wire feed speed should about around 90-100ipm.
In terms of shielding gas, an Argon heavy gas mixture is more suitable as it carries less heat, 75-25 Argon-CO2 split at 15-16 Volts is ideal. Although you can use CO2 it tends to have deeper penetration and might be a bit too hot for the sheet metal, operate this at lower Volts. The Amperage range should be around 40-55.
While for the wire, the AWS E70 wire in S-2, S-3, and S-6 care ideal for welding on mild steel, for aluminum, you should use ER4043 and ER5356. For stainless steel, you can go for ER308 and ER308L.
FREQUENTLY ASKED QUESTION
There are a lot of places on the internet that warn you about using flux-cored welding with body panels and thin sheet metal but very few of them clearly tell you if and how it can be done. I have tried to compile a list of everything Naturally this will lead to some questions in your head. I have tried answering some of the most common questions, hope this clears things up.
WHICH GAS SHOULD BE PREFERRED WHILE DEALING WITH BODY PANELS OR SHEET METALS?
Although CO2 will be the one which consumers usually gravitate towards due to its cost-effectiveness, in this case, you should go for a 75-25% mixture of Argon and CO2. It will help reduce the heat on the thin sheet metal.
WHICH METHOD IS BETTER FOR WORKING ON BODY PANELS?
As I have mentioned above, MIG will be much easier and much more reliable while working on thin body panels. This method is much better in handling and managing heat levels.
WHICH WIRE SHOULD YOU GO FOR WHILE WELDING ON BODY PANELS USING FCAW?
If you are going to be using FCAW on metals thinner than 18 or 20 gauge then I would suggest going with Select e71t-gs, with a diameter of about 0.030". It works pretty nicely with thin metals.