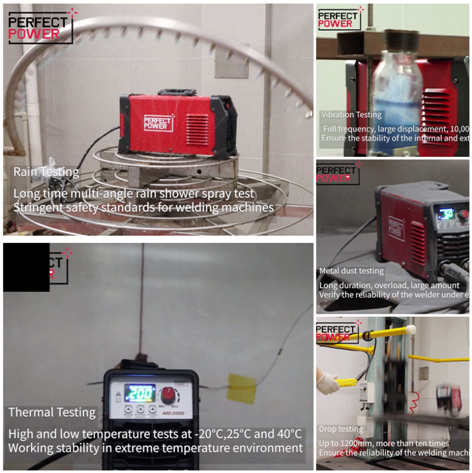 July 11, 2022
What makes quality welding machines?
To let you have an idea of the quality control we have, here I would like to share with you the tests we did for each new welding machine before launching to the market.
Vibration Testing: Full frequency, large displacement, and 10000 vibrations to ensure the stability of the internal and external structure of the mma welding machines.
Drop testing: Up to 1200mm more than 10 times to ensure the reliability of the machines for accidental drops.
Thermal testing: High and low-temperature tests at -209 25C, and 40°C to ensure working stability in an extreme temperature environment.
Metal dust testing: Long duration, overload, the large amount to verify the reliability of the machines under extreme working conditions.
Rain testing: Long-time multi-angle rain shower spray test to maintain stringent safety standards for the machines.
For details, please check the welding machine testing video, and contact us to discuss what other testing you think is important if we are possible to cooperate with you. Thank you!